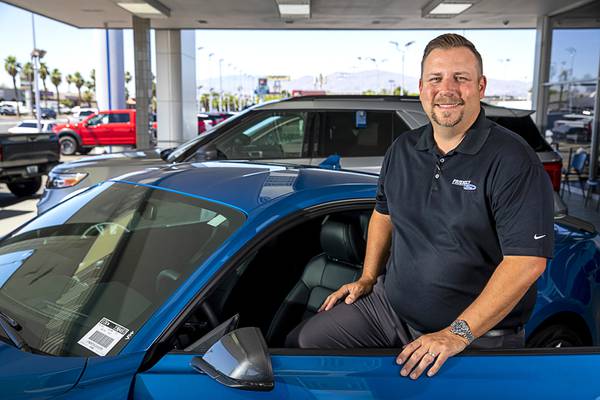 After taking a test drive without a salesman sitting next to him, Terry Bishop sat down at a freshly sanitized table to close the deal on a car at the Friendly Ford dealership on North Decatur Boulevard. Outside, salespeople wearing face masks stalked the lot and customers browsed rows of vehicles.
Closed in mid-March to help curb the spread of the Coronavirus, auto showrooms were allowed to reopen May 9 in the first stage of Nevada's phased reopening plan.
Like other businesses, they must follow prescribed social distancing guidelines, which include a prohibition on salespeople accompanying customers on test drives.
"It was different to not have the salesman on the drive with you," Bishop said. "Otherwise, coming down here didn't seem very different."
When the pandemic took hold of the U.S. economy earlier this year, the bottom dropped out on the auto industry.
Nationwide, the sale of light vehicles - cars, SUVs, vans and light trucks - dropped 48% in April compared to April 2019, according to the National Automobile Dealers Association.
In Southern Nevada, new vehicle sales were down more than 40% in April compared to the same month in 2019, according to Andy MacKay, executive director of the Nevada Franchised Auto Dealers Association.
"When our showrooms were closed in Southern Nevada, some of the states surrounding us didn't have the same rules in place," MacKay said. "Arizona and Utah were more open, so those states, along with Idaho, were doing OK. There were some people from the Southern Nevada customer base who were going to St. George and Flagstaff to shop for vehicles."
But dealerships in Las Vegas have started to rebound, McKay said.
"It's turned around during the past 45 days or so," MacKay said. "It's been a significant challenge, but it's much better than it had been. I do think it will be at least a year until we get back to normal."
In May, Friendly Ford actually sold more vehicles than it did during the same month in 2019.
Bill Bosnos, Friendly's general manager, said much of the uptick can be credited to attractive incentives rolled out in recent months by auto manufacturers. Most of the vehicles being moved are SUVs and trucks, he said.
"If someone would have asked me at the end of April what May would look like for us, I would not have said it would be a normal May. That's what it was, though, a normal month. It's pretty unbelievable," Bosnos said.
Nationwide in May, dealers sold about 12.2 million new light vehicles, down 30% from the same month last year, the National Automobile Dealers Association reported.
As sales start to recover, that's not to say that the way people are buying vehicles hasn't changed.
When showrooms were closed, most dealerships were still open for business but had to focus on alternative ways to attract and interact with customers.
"We adapted," Bosnos said. "We've always been in the internet world, customers already had the option of doing a lot of the legwork on buying a car online, but we never pushed it. We were cautious about it. It's something that's been changing, though it's been slow."
Bosnos pointed to the business model of Carvana, which is centered on cutting out dealerships with an online shopping experience and home delivery of vehicles.
"We know they're out there and that there are other companies like Carvana that are growing," Bosnos said. "I think that's something that's here to stay. As dealerships start to provide those types of solutions, and as customers become more comfortable with that type of process, that's going to become more common."
At Subaru of Las Vegas on Roy Horn Way, part of the Findlay Auto Group, general manager Burton Hughes said sales have picked up in recent weeks.
"When our business was partially closed at the beginning of the pandemic, I was sitting on probably the largest inventory of new cars I've ever had," Hughes said. "We had all these new vehicles and our sales department was shut down. As soon as the governor opened the door for our showroom to open, though, it was like a flood. People were coming in."
May sales set a monthly record, and June is off to a strong start, Hughes said.
"We're not sure yet, but we could have another record for June," Hughes said. "From what we see, the only thing that could put a damper on that is available inventory. The factories were shut down for six to eight weeks, so they weren't producing cars. We're just burning through our inventory right now."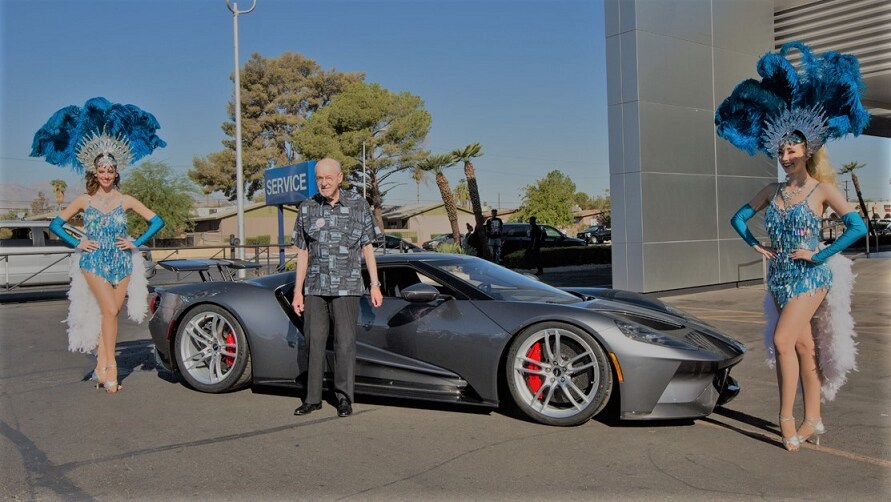 The New 2018 Ford GT Races into Friendly Ford
      (LAS VEGAS) - Friendly Ford, located on Decatur and U.S. 95, had their most unprecedented unveiling of the all-new 2018 Ford GT showcasing the delivery of the new 647- horsepower Supercar.
     Steve Coates, Ford GT Ambassador and Delivery Specialist is a Northern England native who has traveled all over the U.S. delivering Ford GTs. The former race car driver and high-performance vehicle mechanic jumped at the chance to deliver the all new Ford GT to Las Vegas.
     "I am currently on a 20-city tour right now, delivering Ford GTs, but I was blown away when we came to Friendly Ford...Showgirls, champagne and decorations...this delivery was truly Vegas-Style. You know we don't do this every week; this is special and Friendly Ford made this event happen in Las Vegas," said Coates.
     Coates loves being around cars and being around the new Ford GT. "This is not your granddaddy's car company. Ford is on the cutting-edge of everything. The things that are being tested on GT will trickle down to the rest of the Ford lineup," said Coates.   The new Ford GT is also a promotional tool to put Ford in the limelight. Ford has a strong grasp on technology and has a race proven street legal Supercar to prove it.       History tends to repeat itself when it comes to Ford's Supercar repertoire. Ford established their Supercar presence when they wanted to outrace the Ferrari in the 1960s. The prestigious Le Mans was the stage to do it, and Ford was determined to defeat the Ferrari. Ford designed the Mk IV GT 40 that won Le Mans in 1967 and is the only car designed and built entirely in the United States to achieve the overall win at Le Mans. This drive and determination have propelled Ford into the spotlight for performance and has established a permanent place in the race car driving community.     "The history of this car is unbelievable," remarks Ed Olliges, Chairman of Friendly Ford. "The sheer will-power and dedication of Ford engineers has propelled Ford to dominance with one of the best cars on the market. With that mindset… all Ford can do is win."   The new Ford GT boasts a carbon-fiber body with a 647-horsepower 3.5L EcoBoost ® engine. The teardrop shape of the Ford GT is a result of extensive work in the wind tunnel. With a top speed of 216 mph and a zero to 60 in 2.8 seconds, the new Ford GT is a force to be reckoned with. Olliges took delivery of number 177 of 2000 Ford GTs to be made over the next 4 years.   Friendly Ford is located at 660 North Decatur just off U.S. 95. Friendly Ford is the only dealership in Nevada to win the President's Award a record 18 times, Ford's Highest honor for complete customer satisfaction. A leader in sales, service, Ford parts and body shop. Call 702-870-7221 or visit FriendlyFordLV.com